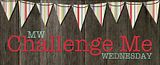 Over in the studio we're thinking of the cold, crisp days leading up to our favorite winter holidays by creating layouts, cards and other papercraft projects using our current Memory Works product. That's right, we're not using holiday themed papers, we're using Summer Fresh, Hello Sunshine!, Cosmo Cricket Baby Jane, Awesom, etc. Let me share how creative these girls are:
Check out the texture she got on the tags. Jody Spiegel Team Works
Cool vintage vibe. Lacey Igo Team Works
Great use of patterned papers for the gifts. Tessa Oxford
This background paper has such a holiday feel, yet it comes from Echo Park's Charming-Graceful lines. Deb L.
Now for some cards:
Simple Stories Awesome line? Really? You'd never know. Kelly Hollbrook Team Works
Love the layers Megan Peacock created here, along with the textured ornaments.
And one last project from me:
Easy peasy, lemon squeezy: I took three pieces of paper from the 6x6 Bo Bunny Hello Sunshine! paper pad and punched four scalloped circles from each piece of paper. I folded each scalloped circle in half and using a wet adhesive I attached the circles back to back, lining up the scallops. The wet glue gives you time to play with getting those scallops lined up. Half-way through I put a scrap of ribbon down along the straight side of the circle. I wasn't stingy with the glue here. When I was done with the circles, I adhered the last side to the first side for a full ornament. I glittered the edges of the scallops with some chunky blue-green glitter (Melissa Frances), glittering all the same sides, letting that dry, and then glittering all the other sides. I love the retro feel I got with the colors and glitter.
So get your papers and supplies out and make some holiday inspired projects with what you have on hand. You have until the 31st to submit your projects in the studio! And in case you were wondering, only 152 shopping days until Christmas!
Jenn Bidwell Edwardson
Team Works